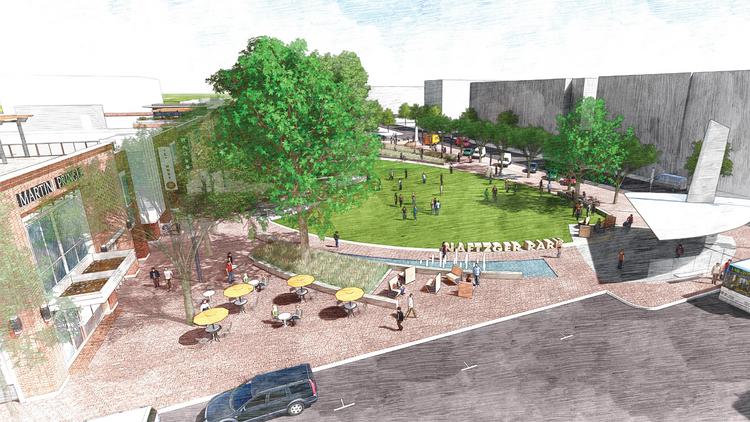 Will a redesigned Naftzger Park bring more foot traffic to the Douglas/St. Francis area of downtown Wichita?
One local business owner — who is likely not alone — hopes so.
"I hesitate to say it definitely will, but we certainly hope so," says Ann Tandoc, co-owner of the Espresso to Go Go coffee shops. "I like the new design. I don't mind how the park looks now, but I think that opening it up more would be good."
About 100 onlookers were among the first to get a glimpse of redesign renderings of the park at a public meeting on Wednesday. Generally, feedback was positive at the meeting.
"We are excited," said Stan Smith, Martin Pringle Law Firm's managing partner. "Everyone that I have talked to here really likes the design and the various elements the architect has incorporated."
The law firm has a deal in place to move its offices to a future building just to the east of the park.
The drawings, done by New York design firm SWA/Balsley, show a tree-lined, wifi-enabled park space that would be part real grass and part artificial turf. It also would feature a dog park, a small stage area, a canopy area with seating and new-age collaborative furniture throughout.
Christine Pileckas, director of sales and marketing for Intrust Bank Arena, said arena officials also like the possible new look for the park.
"The continued growth of downtown Wichita is very important to us," Pileckas said. "The redesign and further development of Naftzger Park and the surrounding area just north of us is certainly exciting and will play an important role in enhancing the space between the core of downtown Wichita and Intrust Bank Arena."
Next up for the design proposal would be approval from Wichita's City Council. It will likely go in front of the council next month, city officials say.